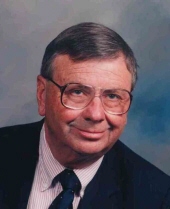 Obituary for Judge Stephen J. Covey
PEORIA – Judge Stephen J. Covey, 89, of Peoria, died at 4:10 p.m. on Tuesday, December 25, 2018, at Heddington Oaks in West Peoria.

Stephen was born on January 12, 1929, in Peoria, to Edwin L. and Georgie (Blackmon) Covey; two years after his mother died, his father married Marie R. Covey, who helped raise him. Stephen married Elizabeth White on June 17, 1950; she preceded him in death on November 11, 1994. He later married Vicki Covey on January 31, 2017, in Lady Lake, FL; she survives.

He was also preceded in death by his parents; two brothers, Charles A. Covey (Associate Judge for the Circuit Court of the 10th Judicial Circuit of Illinois) and Thomas L. Covey; and one sister, Elizabeth Williams.

Stephen is survived by his wife, Vicki; his three sons, Charles Edwin (Theresa) Covey, Andrew White (Sheri Hislope) Covey, and William Ira (Cathy) Covey; two grandsons, David B. (Anna) and Daniel P. Covey; a great-grandson, Addison B. Covey; many nieces and nephews; his stepson, Brad (Mia) Levry; two step-grandsons, Brad (Jennifer) and Matt (Mecale) Causey; and four step-great-grandchildren.

Stephen attended Central High School in Washington, D.C. He then attended Western Maryland University, Westminster, MD; then graduated from the University of Illinois College of Law, Champaign, IL, in 1953. He began his career at Covey & Covey Law Firm from 1953-59, with his grandfather, Ira J. Covey, who practiced law in Peoria for 70 years. Stephen was a United States Bankruptcy Referee, Southern District of Illinois from 1959-74; he was the youngest Referee in the nation when appointed. In 1974, he was appointed Judge for the Circuit Court of the 10th Judicial Circuit of Illinois, then won election in 1976. Stephen served as Chief Judge from 1982-83 and served as Judge until 1987.

As Chief Judge, he was the driving force behind the construction of the new Peoria County Jail and the expansion of the Peoria County Courthouse. From 1987 to 1996, Stephen was a United States Bankruptcy Judge in Tulsa, OK.

He enjoyed music, jitterbug dancing, and all sports, but golf was his favorite. Stephen was a fan of the Fighting Illini, Bradley Braves, Tulsa Golden Hurricane, St. Louis Cardinals (he switched from the Cubs to the Cardinals in 1938 when the Cubs traded his two favorite players) and Chicago Bears.

Cremation rites will be accorded. A private graveside burial of ashes will take place at Parkview Cemetery in Peoria.

Memorial donations can be made to Alzheimer's Association, 614 W. Glen Ave., Peoria, IL 61614.
Events
Cemetery Details
Location
Parkview Cemetery
2001 N. University
Peoria, IL 61604