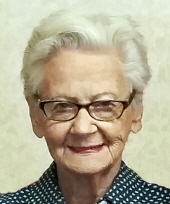 Obituary for Aurelia E. Fisher
Peoria - Aurelia Augusta Elise Fisher, 96, died peacefully at her home on Monday, July 23,2018.

Aurelia was born at home on August 18, 1921 in Beardstown, Illinois to Lorenz and Johanna Eberhardt
Schaefer. Her sister, Connie, was born five years later. She graduated from Beardstown High School and on
December 3, 1942, Aurelia married Warren G. ("Sam") Fisher at St. John's Lutheran Church also in
Beardstown.

She is survived by her four children, Farole (Gary) Haluska (Peoria), Perry Fisher (Wilmington, NC), Monte
(Jeanette Gorecki, deceased) Fisher (Bloomington, IL) and Martha (Glenn, deceased) Lawler (also Peoria), ten grandchildren and thirteen great-grandchildren.

Her beloved husband preceded her in death in February 2006, her sister, Connie, in 2014, Jeanette Gorecki, her daughter-in-law, in 2001 and Glenn Lawler, her son-in-law, earlier this year.

Hers was a life rich in both love and experience. One of two daughters, Aurelia married the man of her dreams and had four children of her own. At the time of her death, she presided over a large and loving family that includes ten grandchildren and thirteen great-grandchildren. Family was her highest priority, and this was a daily lived reality for her, from providing delicious family meals, to sewing and knitting special garments for her grandchildren to wear, to countless other acts of giving. Her life was defined by joyful service to others; she was always the last to sit down at family meals and the first to offer her chair to others. As her age increasingly prevented her from being able to do for others as she would have liked, she struggled to simply let others now do for her. She leaves her family a wonderful legacy in having lived a life marked by loving others well.

From an early age, Aurelia had a beautiful soprano singing voice and performed in various venues throughout her life, from high school assemblies to the choir at her church from which she retired only recently. She had a special fondness for song and often found a way to incorporate singing into her daily life.

For a period of many years, she served as "donut lady" at her church, faithfully preparing everything needed for coffee hour every Sunday morning.

Over the years, Aurelia enjoyed working outside her home for several local businesses including Bergners,
Smith, Kline and French, Reliance Insurance and Liberty Mutual.

The family remains deeply grateful for the loving care Spoon River Home Healthcare provided Aurelia in her final days.

A spirited, generous, loyal, giving woman, Aurelia will very much be missed.

She was a longtime member of Mt. Calvary Lutheran Church, where services will be held at 10:30 am on Friday, July 27, 2018. The Reverend Barry Long will officiate. Visitation will be at Wilton Mortuary from 5 to 7 pm on Thursday, July 26. Additional visitation will be Friday one hour prior to the service at the church. Burial will be in Parkview Cemetery.

Memorials may be made to Mt. Calvary Lutheran Church or OSF Hospice Care in her memory.
Previous Events
Visitation
The Wilton Mortuary
2101 N. Knoxville Ave.
Peoria, IL 61603
Visitation
Mt. Calvary Lutheran Church
908 W. Hanssler Place
Peoria, IL 61604
Service
Mt. Calvary Lutheran Church
908 W. Hanssler Place
Peoria, IL 61604
Cemetery Details
Location
Parkview Cemetery
2001 N. University
Peoria, IL 61604
Memorial Contribution
OSF Hospice
2265 W. Altorfer Dr., Peoria, IL 61615