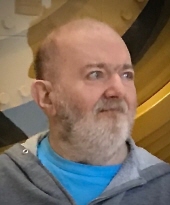 Obituary for Vernon L. Martin
Vernon L. Martin, of Peoria, died Tuesday, June 26, 2018. When he died, Vernon
was working at the day program of EP!C. He eagerly looked forward each day to
attending EP!C.

Vernon was born November 29, 1943 in Decatur, IL to Percy and
Barbara (Whitehead) Martin. Although he lived most of his life in Peoria, at the
time of his death he was living in the Austin CILA, operated by RCAP, in
Chillicothe. As one of Vernon's caretakers said, "Vernon likes to be busy and wants to be
useful. He is generally pretty happy and lives in the moment. He does not appear to
worry about the past or his future." We can learn much from Vernon.

Vernon was preceded in death by his parents. He is survived by his older brother
and guardian, The Rev. Christopher Martin (Sandy) of Atlantic Beach, FL, his
daughters Elizabeth Lippincott (Linc) and Abigail Stewart (Stephen).
He is also survived by his younger sister Barbara Hickman, of Peoria and her
children Lisa Ann Frazee, Jason Hickman (Robin) and David Hickman, and by
many grand nieces and nephews.

A Celebration of Vernon's Life will take place on Saturday, July 21, 2018 at 10 am
at St. Paul's Episcopal Chruch, 3601 N. North St. Peoria, IL 61604. A reception
will follow. Burial of Vernon's ashes will take place later at the Lutheran Cemetery in Peoria.
In lieu of flowers, memorials may be made to St. Paul's Episcopal Church at the
above address or to EP!C, 1913 W. Townline Rd. Peoria IL 61515, attention: Accounting.
Previous Events
Celebration of Life
St. Paul's Episcopal Church
3601 N. North St.
PEORIA, IL 61604
Cemetery Details
Location
Lutheran Cemetery
914 S. Pleasant Street
Peoria, IL 61604
Memorial Contribution
EP!C
1913 W. Townline Road
Peoria, Illinois 61615