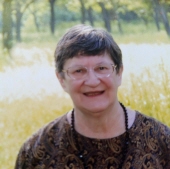 Obituary for Shirley J. Hartsock
PEORIA--Shirley J. Hartsock, 85, of Peoria, passed away at 5:10 PM, Saturday, May 26, 2018 at her residence surrounded by her family.

Born December 14, 1932 in Peoria, a daughter of William M. and Ruth Pittman Hill, Shirley married the Reverend Lawrence Edward Hartsock,the love of her life, on June 19 1953. He preceded her in death on January 1, 2004.

Surviving are two daughters, Deidrea Baker of Peoria, Deborah (Randy) Bowman of Peoria; two sisters, Betty Carter and Ruth Decker; three granddaughters, Deanne Baker, Jennifer Bowman and Jill (Chad) Keller; two great-grandchildren, Noah Keller and Hannah Rose Keller.

She was a loving pastors wife for many years, who enjoyed leading singing, teaching Sunday School, and being church treasure. She was a beloved "Camp Ma" at Manville Nazarene Camp for many years.
Children brought her so much joy, she enjoyed her time working at Children's Home until she retired in 1991. She was a foster grandmother at Salvation Army for 8 years.

She was a two time breast cancer survivor who had an exceptional Christian faith throughout her entire life and always trusted in the Lord. She was a wonderful wife, mother, grandmother and granny who will be dearly missed and always remembered.

Cremation rites were accorded and a private graveside service will be in Joel Hall Cemetery in Athens, IL at a later date.

In lieu of donations instead we ask you plant a flower in her memory. As flowers and nature were loved by Shirley.