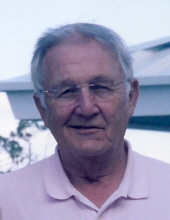 Obituary for Dr. Leon H. "Bud" Perley
DUNLAP—Dr. Leon H. "Bud" Perley, 86, of Punta Gorda, FL, formerly of Dunlap, passed away at 12:50 p.m. Sunday, March 11, 2018 at the Tidewell Hospice Home in Port Charlotte, FL.

Dr. Perley was born January 6, 1932 in Anniston, AL to the late Leon and Dorothy Elwell Perley. He married Shirley R. Seppelt December 30, 1951 in Dunlap. She preceded him in death May 12, 2013 in Peoria.

Others preceding him in death was a great-grandson, Zaedon Houseman, one brother and one sister.

Surviving are one son, Steven S. Perley of Kentucky; one daughter, Jane Perley Cannon of Canton; three grandchildren, Ryan, Ashley, Adam and four great-grandchildren.

He was a veteran of the U.S. Army.

Dr. Perely was on the Board of Trustees at Commerce Bank. He was a member of the Rotary and active in the Boy Scouts and United Way.

The Illinois Central College Board of Trustees unanimously voted Dr. Leon "Bud" Perley as ICC's second president in December 1975. He began his tenure in January of 1976, succeeding Dr. Kenneth Edwards. Perley came to Illinois Central College in 1967 as the Vice President for Administration and Finance and served as president until 1989.

Perley graduated from Dunlap High School in 1950. He went to Western Illinois University before entering the Army in Oct. 1951 and after his discharge in 1953. He taught at Richwoods High School in 1957, earning his master's degree in education while there. Both degrees are from WIU. He earned a doctorate in education from Indiana University, Bloomington, Ind.

During his tenure at ICC, Dr. Perley established a number of community-focused programs. These included the Optional Education Program and the Dislocated Work Program. He supported the development of an alternative school for area high school dropouts. Perley also was an advocate for the ROOTS program, which was designed to recruit and prepare minorities to be teachers. He established the Honors Program and Weekend College at ICC, which experienced exceptional growth during his administration. Recognizing the need employers had for training during the personal computer revolution, Perley helped create the Professional Development Institute (PDI). PDI instructed individuals and companies on adapting to new computer programs and provided a professional development coursework in areas like leadership and management for local employers. New academic programs were developed in computers, robotics, manufacturing, and health careers as part of Perley's administration. He also called for greater collaboration among academic institutions to help transferring students avoid duplication of academic coursework and additional expense.

Perley was responsible for the physical expansion of the East Peoria campus. In fiscal year 1976, Phase III of the permanent campus was designed and constructed, including the 30,000 square foot Performing Arts Center and a 59,000 square foot building housing horticulture, agriculture, welding, graphic arts, and diesel and auto mechanics. In 1985, under Perley's leadership, ICC purchased the Woolworth Building in downtown Peoria, establishing ICC's second campus. The building opened in November of 1985, serving more than 1,000 students. Under Perley's direction, coursework was also made available at a number of community sites, including public libraries, Lakeview Museum, and local high schools.

Perley also recognized the importance of sharing the community college story with the public to garner support. In 1979 he established a public relations and publications department to help communicate the value of community college education. He supported the growth of College Night, an evening where high school students could meet representatives of ICC, as well as many other colleges and universities. The ICC Educational Foundation had its beginnings during Perley's administration and remains one of the premier community college foundations in the state.

Dr. Perley also supported early sustainability efforts. In 1980, a solar house was constructed on the East Peoria campus. This building provided a living laboratory for students to study the implementation of passive energy. While the building became obsolete in the early 1990s, it was one of the first efforts in the Peoria area to understand the importance of sustainable energy sources. Perley also led the way for the first energy audit to help the college identify ways to conserve resources.

Bud Perley successfully led Illinois Central College through financial challenges, growth and decline in enrollment, building programs, adaptation of computers and technology, and growth in academic strength during his 13-year presidency. As tribute to his leadership, more than 600 staffers and community members attended his retirement reception.

He was a member of First Federated Church.

Memorial services will be at 3 p.m. Thursday, March 22, 2018 at The Wilton Mortuary in Peoria. Chaplain Mary Jane West will officiate. Burial of ashes will be in Mt. Hawley Cemetery.

Memorials may be made to the Illinois Central College Foundation, 1 College Drive, East Peoria, IL 61635-0001.
Previous Events
Memorial Service
The Wilton Mortuary
2101 N. Knoxville Ave.
Peoria, IL 61603
Memorial Contribution
Illinois Central College Foundation
1 College Drive
East Peoria, IL 61635-0001