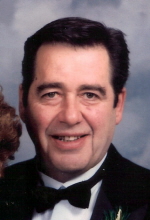 Obituary for Ronald E. Anderson
PEORIA--Ronald E. Anderson, age 79, of Peoria, passed away at his home on August 18, 2018, lovingly surrounded by his wife and children.

Ronald was born on September 18, 1938 to Raymond L. Anderson and Stella (Faltemier) Anderson in Evanston, Illinois. He married Linda Jane Harden on July 29, 1961 in Springfield, IL. Together, they raised four children Ellen, Julie, Tom, and John and provided them with everything children need to grow up happy, healthy, and strong. Ron was a family man through and through. He was a loving husband and father and was reliable, supportive, helpful, loyal and cheerful every day of his life. His steady, calm and sensible nature was his trademark and provided a sense of wellbeing to his family in all situations. He felt that the home should be the place where a person most wants to be and created such a home for his family that will be a treasured memory always for his children and grandchildren.

Ron was a teacher in Peoria's District 150 for 35 years before retiring at the age of 54. He taught grades 7 and 8 at Kellar and Lindbergh Schools. Many people from the Peoria area will remember "Mr. Anderson" as their grade school or junior high history and geography teacher.

Ron led a very full life and enjoyed so many things. He was a carpenter, an artist, a historian, a geographer, a gardener, a camper, and a traveler. He was always doing something, always immersed in a project of some sort whether it was adding an addition on to the house, tending to his yard and plants, studying up on history and geography or creating many one of a kind wood working pieces like duck decoys, model boats, carvings, furniture, or wooden boxes in a wide variety of designs, just to name a few. He created hundreds of pieces that can be found in the homes of people throughout the Peoria area and beyond, since he gave many of his works away. He always signed his work on the bottom with "R. Anderson" and the year the piece was made. Ron was also the neighborhood fix-it man over the years. He could build a deck, screen in a porch, repair just about anything, or build whatever was needed to fit perfectly into any household space. Many homes, schools, and businesses in Peoria still use Ron's shelves and display pieces. Ron was also known in the neighborhood for his love of trees, plants and flowers. At one time, he was in charge of the Beautification Committee of the Uplands Neighborhood Association and worked with the city to add numerous trees to the neighborhood. He lovingly earned the title of "The Marigold Man" as in the spring he threw his marigold seeds up and down the alleys near his home. The Uplands had some of the most floral alleyways in Peoria!! Ron loved Peoria and got to know many people in his travels around town. Most importantly, he was a kind friend to everyone he met.

Ron was a very resilient person who overcame many obstacles throughout his life and always with a positive outlook, a cheerful personality and a wonderful sense of humor. He could always be counted on to have a joke or say something to make others smile or laugh, even when he became very ill. Ron was a gift to his family and the world and he will be missed every day. He is survived by his wife Jane, his children Ellen(Evan)Finer, Julie(John)Benedict, Thomas(Beth)Anderson and John(Cheryl)Anderson. Also surviving are his step-mother, Mary Kay Anderson, sister, Linda Anderson, 10 Grandchildren; Jeffrey (Alyssa) Kushnir, Stephanie Kushnir; Erin Finer; John William Benedict, Janey Benedict, Jill Benedict; Zoe Anderson, Gabriel Anderson; Ryan Anderson, Colin Anderson, and 1 Great-Grandchild; Holly Kushnir.

Funeral services will be at 10 a.m. Thursday, August 23, 2018 at The Wilton Mortuary with the Reverend Howard Love officiating. Visitation will be from 5 to 7 p.m. Wednesday at the mortuary.

In honor of Ron's memory, the family would like to request that all those who knew and loved him, please plant a tree.
Previous Events
Visitation
The Wilton Mortuary
2101 N. Knoxville Ave.
Peoria, IL 61603
Service
The Wilton Mortuary
2101 N. Knoxville Ave.
Peoria, IL 61603