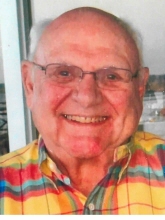 Obituary for Richard H. "Dick" Bogard
PEORIA--Richard, "Dick", Bogard, 92, of Peoria, passed away Friday, November 30 at Buehler Home, with his wife Suzanne by his side.

Dick was born on April 21, 1926 in Peoria, IL to Asher and Corda Bogard. He married Suzanne Eckdahl on June 5, 1987, in Peoria, Illinois. She survives.

Also surviving are his sister, Mary Jane Keller; children, Kimberly (Sie) Maroon, Andrea (Rodger) Bogard, Daryl (Judith) Bogard and Claudia (John) Bogard., along with seven grandchildren and one great grandchild.

He was preceded in death by his parents, one sister, one grandson and one great granddaughter.

It was always Dick's ambition to be a major league ball player. He had all the credentials. Dick was an outstanding baseball player at Peoria High School and was proud to say he was the starting pitcher all four years. He had three pitches- a fast ball, a "nickel curve", which was later called a "slider", and his best pitch was a "fork ball"' which is now known as a "split finger" fast ball. He could make the ball drop as much as two feet, depending upon which way the wind blew. He was inducted into the Peoria High Sports Hall of Fame and was nearly drafted by the Boston Red Sox.

After Dick graduated high school, he received a letter in the mail from the government. It said that his friends and neighbors had selected him to represent them in the war. Baseball was officially put on hold. It was at this point, Dick became a member of the Greatest Generation and proudly served as a rifleman in Company A, 30th Infantry Regiment, Third Division during World War II in France. It was winter, bitterly cold and snowing. One night, after coming into contact with the enemy on a bridge, Dick fell into the water. He was pulled out and from that point on, he could not get his feet dry because he had combat boots instead of snowpacks. His feet became severely swollen and this became the reason Dick was sent home. He was awarded the Bronze Star, French Croix de Guerre, Presidential Unit Citation, Combat Infantryman's Badge, 2 Battle stars and later received the French Legion of Honor medal.

After returning from France, he eventually was able to go to college on Public Law 16 which was better than the G.I. Bill. He graduated from the University of Michigan in 1950, from the School of Pharmacy. He became a pharmacist in Peoria for several years and retired as CEO of Bogard Drug Stores, a chain of five stores.

His love of baseball never wavered. Dick was an avid Cubs fan his entire life and even attended the Cubs Fantasy Camp. He visited every major league ballpark in the U.S. and Canada.

Cremation rites have been accorded and a celebration of his life will be held at 11 a.m. on Saturday, April 20 at the Universalist Unitarian Church of Peoria , 3000 W. Richwoods Blvd., where he was a member of the Universalist Unitarian Church of Peoria for over 60 years and served a term as president. To honor his patriotism and love of country, memorial contributions can be made to Greater Peoria Honor Flight, PO Box 5072, Peoria, IL 61601-5072.
Previous Events
Celebration of Life
Universalist Unitarian Church
3000 W. Richwoods Blvd.
PEORIA, IL 61604
Memorial Contribution
Greater Peoria Honor Flight
PO Box 5072, Peoria, IL 61601-5072