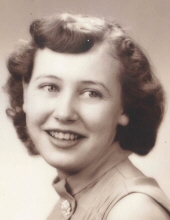 Obituary for Margaret M. Eberle
BRIMFIELD - Margaret Maxine Eberle, 79, of rural Brimfield passed away Monday morning, Dec. 3, 2018, at her home.

She was born on July 9, 1939, in Elmwood, IL, the daughter of Fred LeMasters and Ethel Record LeMasters. She married Marvin Julius Eberle on Sept. 16, 1957, in Peoria. He preceded her in death on Feb. 2, 2009.

She is survived by two daughters, Marilyn E. Eberle of Brimfield and Margie A. (Martin) Clevenger of Brimfield; one son, MJ Eberle (Kari Younger) of Brimfield; five grandchildren, Kris (Stephanie Osborn) Simmons, Kasey Simmons, Kyle (Brandy Losh) Simmons, Dr. Nicole Clevenger and Alexis Eberle; four great-grandsons, Luke Simmons, Lane (L.J.) Simmons, Nathan Simmons and Finley Simmons; two great-granddaughters, Holly Simmons and Kylie Simmons; one brother, Donald LeMasters of Canton, IL; one sister, June (Allen) Davison, of Oak Forest, IL; and several nieces and nephews. A very heartfelt thank you to Kari for helping all of us in caring for her day in and day out this past year and being at her side Monday morning.

Also preceding her in death were two brothers and five sisters.

After marrying, she and her husband, Marvin, bought and moved to their home and farm in Brimfield.

In her spare time, she worked as a waitress for 30 years at Pizza Hut in Bartonville and on Knoxville in Peoria, before retiring from Pizza Hut in Peoria Heights in 2008.

All the while, she was a wonderful homemaker, pitching in wherever necessary to support the farming operations of growing corn, beans, oats, wheat and alfalfa; and aside from that, in the barn, where for 50 years her family raised dairy cattle and hogs. She enjoyed canning fruits and picking berries for her favorite jams. She loved to cook and bake. Her soft peanut butter cookies will certainly be missed.

Margaret was a long-time member of the Peoria County Farm Bureau and a member of the American Legion Auxiliary in Brimfield.

She was a loving wife, mother, grandmother, neighbor and friend and will be dearly missed by everyone.

Everyone knew her as Momo.

Like her husband, she held a great deal of interest and encouragement in the activities and education of her children and grandchildren. More recently, she certainly enjoyed sharing every moment possible with her great-grandchildren.

She enjoyed everyday work, shopping with her granddaughters on Mondays, reading the "funnies" in the newspaper, and going to dinner with her husband every Sunday.

A funeral service will be held at 11 a.m. on Friday, December 7, at Brimfield Evangelical Free Church, outside of Brimfield. The Rev. Donald L. Blasing will officiate. The family will receive friends on Thursday, December 6, from 5 to 7 p.m. at The Wilton Mortuary in Peoria and one half-hour prior to services at the church on Friday, Dec. 7. Burial will take place immediately following the service at Swan Lake Memory Gardens in Peoria.

In lieu of flowers, donations can be made in Margaret's honor to the Brimfield Fire Protection District, BYE Ambulance or Brimfield Evangelical Free Church.
Previous Events
Visitation
The Wilton Mortuary
2101 N. Knoxville Ave.
Peoria, IL 61603
Visitation
Brimfield Evangelical Free Church
11724 N. Maher Rd.
Brimfield, IL 61517
Service
Brimfield Evangelical Free Church
11724 N. Maher Rd.
Brimfield, IL 61517
Cemetery Details
Location
Swan Lake Memory Gardens
4601 W. War Memorial Drive
Peoria, IL 61615