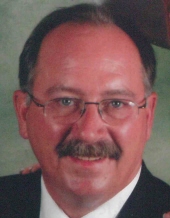 Obituary for George Gene Blackburn
CHILLICOTHE - George G. Blackburn, 66, passed away on April 19, 2019 at Barnes Jewish Hospital in St. Louis, from complications after open heart surgery.

George was born on November 11, 1952 in Peoria to Uel and Frances (Thompson) Blackburn. He married Kim (Hatfield) on July 26, 2006 in Vancouver, Canada. A "destination wedding" on a Cruise Ship.

He is survived by his wife Kim, son, Philip Blackburn of Sparland, IL, step-son, Michael (Sasha) Hatfield of Peoria, IL, sisters; Barb (Marty) Menia of Lake Stevens, WA and Judy Blackburn of Peoria, IL, and brother, Gary (Kay) Blackburn of Englewood, CO. Also surviving are his beloved grandchildren, Allison and Chase Bickel (little George). George is preceded in death by his parents.

George was one of the Peoria County Sherriff's Police for over 26 years. During his career, he was involved in many facets of police work.

One of the most fulfilling positions he held in his years as a Peoria Co. Sheriff's Deputy was being a D.A.R.E. Officer for 3 years. D.A.R.E. Officer Blackburn served over 20 Peoria County Schools working with 5th Grade classes, discussing the ill effects of drug abuse on their bodies and minds. More importantly, he gave students a glimpse of what a real policeman looked and acted like.

As a Lieutenant on the Department, George also was assigned to co-ordinate operations of the Sheriff's Deputies and the Sheriff's mounted police. These men and women were uniformed volunteers, who rode their horses to assist the deputies in unusual situations, such as search and rescue missions, crowd control, etc.

Another thing George did (on his own), that was always deeply appreciated by members of the Sheriff's Department, was attend grave side services for Deputies. It should be known to everyone that ever attended these services, that it was George that was always in the far background playing taps on his horn. He really took it to heart, and explained to one Deputy that it's hard to blow a horn and shed tears at the same time. He always hoped that in some small way this gesture on his part could bring peace to the loved ones left behind. He should know that it certainly did!

In his retirement, George grew his once small side business, to a large corporation known as Blackshor. Today, his efforts boast 4 rather large divisions, featuring Landscaping, Power Sweeping, Semi Truck (Logistics) Services, and Commercial Snow & Ice Management.

George had a motto "Get 'er done!" so he would answer his phone day or night, to solve problems for customers & employees. However, there was nothing he enjoyed more than thinking about, and collecting machinery and equipment for the business. He especially loved it that his 10-year-old grandson Chase was glued to his side and knew just as much as George about each item Blackshor owns & operates.

A memorial visitation for George Blackburn will be Saturday, April 27, 2019 from 9:30 am to 11:30 am with a service immediately following the visitation at the Wilton Mortuary, 2101 N. Knoxville Avenue, Peoria, IL. The service will be officiated by Rev. Ray Harrison. In lieu of flowers, memorial contributions can be made to D.A.R.E. or the Peoria County Posse.
Previous Events
Visitation
The Wilton Mortuary
2101 N. Knoxville Ave.
Peoria, IL 61603
Memorial Service
The Wilton Mortuary
2101 N. Knoxville Ave.
Peoria, IL 61603
Memorial Contribution