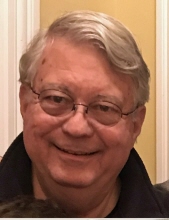 Obituary for Frederic "Fritz" Marcus Bock
MURFREESBORO - Frederic "Fritz" Marcus Bock, 67, of Peoria, passed away on October 28, 2019, at his home in Murfreesboro, Tennessee, surrounded by family.

He was born November 29, 1951, in Bloomington, Illinois, the oldest of five children of Edwin Marcus Bock and Madelyn "Mitch" Griffin. Both preceded him in death. On June 8, 1974, Fritz married Susan Virginia Mansur, who survives him.

Fritz is also survived by his son, Stephen Marcus (Jennifer) and grandchildren Hudsen and Selah Bock of Murfreesboro, Tennessee; brothers, Kurt (Carol) Bock of Charlotte, North Carolina, and Garth Bock of Blue Eye, Missouri; sisters, Julie (Jules) Blank of Green Bay, Wisconsin and Elizabeth (Doug) Oakley of Murfreesboro, Tennessee; and nine nieces and nephews.

He was a 1969 graduate of Leroy High School. He graduated from (then) Central Missouri State University in 1974 with a Bachelors of Science in Biology and in 1977 with a Master of Science in Industrial Hygiene. After being married, Fritz and Susan moved to the Peoria area in 1977 where Fritz worked at the Occupational Safety and Health Administration (OSHA) office in Peoria. He joined Caterpillar Tractor Company in 1981 as an industrial hygienist and later moved into environmental health and safety management positions at Caterpillar, Inc. He retired in 2013 after 32 years.

Fritz was passionate about his family, his church, amateur (ham) radio, and most recently supporting STEM efforts in the local schools. He was a long-time member of the Peoria Area Amateur Radio Club, serving as its president for several years. For the past two years he served as the Section Emergency Coordinator for the American Radio Relay League (ARRL) Illinois Section, which helps coordinate ham radio emergency and disaster support throughout the state.

Fritz and the Peoria Area Amateur Radio Club began a program with the Washington Gifted Middle School to teach the science behind high-altitude balloons. He helped students launch a balloon with a payload of student scientific tests. The balloon was then tracked using ham radio. Additional balloon launches have been conducted at other Peoria area schools.

A visitation will be Friday, November 8, 2019 from 4-7 p.m. at The Wilton Mortuary, 2101 N. Knoxville Ave., Peoria, IL. A funeral service to celebrate Fritz's life will be held on Saturday, November 9, 2019 at 10 a.m. at The Wilton Mortuary. Burial will follow the service in the Oak Grove Cemetery in Leroy, Illinois.

Memorials can be made to the Fritz Bock Fund to support future balloon launches at Washington Gifted Middle School. Checks can be made to the Peoria Public Schools Foundation, noting the Fritz Bock Fund in the memo field, 5901 N. Prospect Rd, Ste 14E., Peoria, IL 61614. Memorials can also be made to the Fritz Bock WD9FMB Balloon Launch Fund through Peoria Area Amateur Radio Club (PAARC) at PO Box 3508, Peoria, IL 61612.
Previous Events
Visitation
The Wilton Mortuary
2101 N. Knoxville Ave.
Peoria, IL 61603
Service
The Wilton Mortuary
2101 N. Knoxville Ave.
Peoria, IL 61603
Cemetery Details
Location
Oak Grove Cemetery
LeRoy, IL
LeRoy, IL McClean county
Memorial Contribution
"Fritz Bock Fund" Peoria Public Schools Foundation
5901 N. Prospect Rd. Suite 14E
Peoria, IL 61614
Fritz Bock WD9FMB Balloon Launch Fund through Peoria Area Amateur Radio Club
PO Box 3508
Peoria, IL 61612