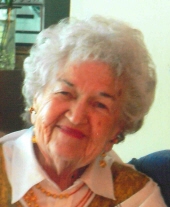 Obituary for Emilie C. St. John
PEORIA--Emilie C. St. John (nee O'Rorke) passed away peacefully at 7:55 p.m., Tuesday, February 26 at Grand View Alzheimer's Special Care Center.

Born in Arcadia Michigan on August 2, 1922, she is the last surviving child of Tilly (nee Neslund) and Fred O'Rorke. She was preceded in death by her beloved husband John M. St. John, and beloved siblings Tom, Margaret, and Audrey.

Emilie is survived by her daughter Christine St. John and son-in-law Crispin Cole of London, England. Also Emilie has 5 nieces (and their husbands) and 4 nephews (and their wives) all of whom brought her great joy.

Emilie graduated from Arcadia High School in 1939, at age 16 after being promoted a year. She attended Grand Rapids Jr. College where she earned an Associate's degree. At Michigan State University she was again advanced a year and graduated with a Bachelor of Science Degree in Home Economics with a minor in chemistry.

Her first job was at the University of West Virginia, in Morgantown, as director of food services for the campus. Michigan State University kept her name on the file and when a job became available in Peoria, Illinois she accepted the postition of Tea Room Director of the Y. W. C. A.

In 1948 Emilie married George Roswell, and in 1954, they had one daughter, Christine. In 1959 the marriage ended in divorce and Emilie went back to work, first at the Met Lab and then at the Y.W. C. A. where she became Youth Program Director.

In 1960, she met John M. St. John, a young metallurgical engineer at Caterpillar, while both were attending a dance class at the Y.W.C.A. They married a year later. Their marriage was an enduring romance; full of love, devotion, and fun!

By 1968 Emilie became the Y. W.'s Executive Director. Under her leadership, and with many equally committed members of the community, the Ashanti Umoja Black Culture Center was created, to promote activities for young African –American teens. Emilie was also intensely involved in the creation of a center for abused women in Peoria.

After retiring from the YWCA, Emilie embarked on a new career in Real Estate and worked at Jim Maloof Realtors enjoying a successful career spanning 20 years. She took a genuine interest in helping people find their own home. Emilie retired from a working life at 80 years old.

Emilie and John were happily married for nearly 40 years until his death in 2000. They were avid sailors and long-standing members of The Ivy Club. One of their greatest sailing adventures came in 1998 when traveling to Nelson Mandela's South Africa, they sailed the Indian Ocean.

In 2001 Emilie began to support a dance project in Ethiopia which promoted programs for social welfare. Among one of the dancers was a young woman , Meseret Yirga, who Emilie supported over the years. Emilie traveled overseas twice to support Meseret Yirga's social work. Now, Meseret has become the first woman choreographer in Ethiopia.

Emilie traveled the four corners of the globe. At 84 she made her last overseas trips to Singapore and Japan. Of all her travels, Egypt was her favorite.

Emilie was a member of many local organizations in Peoria including: Altursa Club, As You Like It Club, Peoria Art Guild, Peoria Symphony, various bridge clubs, one book club, and her beloved Friday Night Soup Group. Emilie was an elegant hostess, possessing a great sense of fun and love of her friends.

She and John were members of the First United Methodist Church downtown, Peoria.
While invited to live with her daughter and son in law in their home in London, Emilie declined saying that she could never imagine leaving Peoria permanently. She loved her community.

Emilie was given the supreme challenge of her life when she was diagnosed with Vascular Dementia and she was lion-hearted in facing this illness. She took senior learning classes at Bradley University about memory loss to help prepare herself for what was to come. As the disease took her, it was never able to take away her sweet kind heart and gentle smile.

A heartfelt thank you to Emilie's oldest friends most especially Jean Slonneger, Al and Shirley Andrews, and Esther Cohen. Emilie's family wholeheartedly thank the nurses and caregivers at Grand View. The love and kindness they gave to Emilie will stay in our hearts forever.

Emilie St. John had an enduring belief that making friends with people of different faiths, walks of life and cultures would enhance and enrich her own life. She fiercely saw all that is right with the world and there was never any room in her heart for resentments.

Emilie St. John's was a life truly well lived.

Services will be private.

In lieu of flowers or condolence cards you may give a small donation online to someone close to Emilies heart; Meseret Yirga. Online donations can be made at www.meseretdancestudio.com.
Memorial Contribution