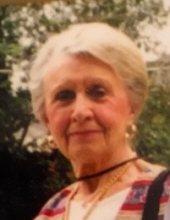 Obituary for Eileen Gibson
Gilbert, AZ - Mrs. Eileen Gibson passed away on Thursday, Oct. 31, 2019 at the Sunrise Senior Living Center in Gilbert, AZ. She had recently celebrated her 98th birthday. She was a long-time resident of Peoria, Illinois, having moved to Arizona in 2011 to be near to one of her daughters for continued care. Eileen is survived by her four children, Phyllis Jean (Phyddy) Gibson Tacchi of Durham, NC; Martha Ellen (Marti) Gibson Enslin of Payson, AZ; Jack Michael Gibson, MD of Durham, NC; and Jeffrey Mitchell Gibson of Prospect, KY. She is also survived by her 12 grandchildren and 15 great grandchildren. She was predeceased by her loving husband, Ralph Leon Gibson MD, a long-time Peoria obstetrician/gynecologist, in 1996.

Eileen was born on September 24, 1921 in Judson, Indiana to her late parents Veva Strickler
Mitchell and Clyde Davis Mitchell. Her siblings, all of whom predecease her, were Helen
Mitchell Cannon of Galesburg, IL; William Doyle Mitchell of Ft. Myers, FL; Laura Jean Mitchell
Nunn of Des Moines, IA; Ida Martha Mitchell Davis of Orlando, FL; and Dale Davis Mitchell of
Galesburg, IL.

Eileen married Ralph Leon Gibson, MD on November 29, 1941 in Indianapolis, IN. She attended
Indiana University in Bloomington, IN where she first met her husband when she was a student
and he was a medical student there. They often told the story of their chance meeting while
standing in line to register for classes, whereby she accidently stepped on Ralph's foot and the rest became history. She was a member of First Federated Church in Peoria, IL since 1950. Eileen was an accomplished homemaker, wife and mother. She had an admirable set of strengths in creating a beautiful and tidy home that was welcoming to all. She always told her children and their families, "Come early and stay late". Often times, her dining room was bustling with immediate and extended family members crowded together for holidays and special meals of delicious food, stating "There is always room for one more!" She thrived on sharing her home and goods with her children and grandchildren, always wanting her family to feel good about being there. She was unselfish and generous to all. Her home was often seen and used as a source of comfort to her grown children as they encountered the ups and downs of daily life. She was a warm, trusting and understanding listener and conversationalist, admired for her ability to be able to talk with anyone about anything. She prided herself in her stylish appearance and vibrant energy in getting things done. She was a hard worker and took little satisfaction in being idle or unproductive, setting high standards both for herself and those around her for achievement, stating "If you are going to do something, do it right the first time. If you say you are going to be somewhere, you be there." She was immensely proud of the family that she and her husband had built and leaves many wonderful memories behind of humor, devotion and generosity. Her steady companionship and strength of purpose and connection will be greatly missed.

Eileen's services will be held on Saturday, December 7th at First Federated Church at 11:00am. Visitation will be held at 10:00am in the church parlor prior to her service. Her ashes will be inurned next to her husband's in the First Federated Church columbarium.
Upcoming Events
Visitation
First Federated Church of Peoria
3601 N. Sheridan Road
Peoria, IL 61604
Memorial Service
First Federated Church of Peoria
3601 N. Sheridan Road
Peoria, IL 61604