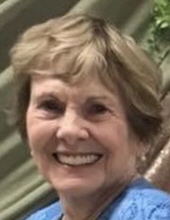 Obituary for Bette M. Mason
WASHINGTON - Bette Marilyn Mason (nee Feldhaus) died at 1:15 a.m., Tuesday, November 6, 2018, at her home surrounded by family.

She was born in Chicago, Illinois May 13,1932, the oldest of the 3 children of Harold and Isabel (Baker) Feldhaus. She was preceded in death by her brother, Richard Feldhaus on October 25, 2018. She married her childhood sweetheart, Ike, on December 9, 1950 in LaSalle, Illinois. They were blessed with 4 children, James (Laurie), Barbara (Carl), Michael, and Nanci (Bob). These 4 in turn produced 9 grandchildren and they have added 18 great-grandchildren. What a wonderful family!

After marrying, Bette worked at Caterpillar until she joined her husband as he served for 3 years in the Air Training Command Band. After the service she had a few years as a "stay-at-home-mom". When the kids got older, she joined Ike as corporate secretary for Mason and Associates, Inc., who presented Dale Carnegie Training in downstate Illinois. This position gave her an opportunity to travel and in doing this she had the good fortune to visit most of the 50 states and even 2 foreign countries.

Later she enjoyed RV travel and wintering in Florida. Her memories included the many friends she had the chance to make in her business and retirement travels. Her religious life was strong because as a small child in Chicago she accepted Jesus Christ as her Savior and never wavered from that belief throughout her life. One of her proudest accomplishments was her election as the first woman Senior Warden of the Vestry of St Andrew's Episcopal Church. Since the Diocese of Quincy left the Episcopal Church, she has been a faithful member of St Michael and All Angels Anglican Church where the funeral and inurnment of ashes will take place at a later date.

A celebration of life will be held from 1 to 3 p.m. on Sunday, November 11, 2018, at The Waterhouse, 316 SW Washington St., Peoria, IL. Please come and help us celebrate the life and transition from this life of Bette M. Mason.

Memorial donations may be made to St. Michael and All Angels Anglican Church, 4911 N. Knoxville Ave., Peoria, IL 61614.
Previous Events
Celebration of Life
The Waterhouse
316 SW Washington St.
Peoria, IL 61602