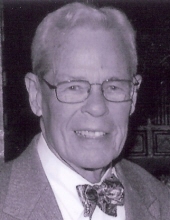 Obituary for Russell Field Triebel
PEORIA – Russell Field Triebel, 89, of Peoria, passed away peacefully at 9:30 a.m. Monday, September 25, 2017 at Lutheran Hillside Village in Peoria.

Field was born September 21, 1928, to Carl O. and Margaret (Hunter) Triebel in Peoria, Illinois. He married Jeannine Spangler on May 31, 1952 in Decatur, Illinois. She preceded him in death on July 1, 2017. Shortly before he lost Jeannine, they celebrated 65 years of marriage.

Field is survived by his daughter, Deborah Field Triebel of Peoria. He is also survived by daughter-in-law, Karen (John) Calder of Metamora; three granddaughters, Megan (Michael) Stoll of Lake Villa, Illinois, Melissa (James) Bello of Chicago, Illinois, and Margaret Triebel of Alexandria, Virginia; and five great-grandchildren, Thomas, Jack and Oliver Stoll, and Dominic and Elise Bello; nephew, Hunter (Shirley)Triebel who co-owned Ideal Troy Cleaners with Field.

Preceding Field in death was his son, Thomas Field Triebel; his sister, Jean T. Dampier; his brother, John H. (Jack)Triebel; and his parents.

In 1947, Field graduated from Peoria High School. He attended DePauw University, and was a member of Beta Theta Pi fraternity. Following graduation from DePauw in 1951, he was drafted into the U.S. Army where he taught in the radar school at Fort Bliss, Texas from 1951-1953. Upon returning to Peoria, he managed the Hunter Lumber Company in Mossville.

He later joined his father and brother as co-owner of Ideal Troy Cleaners in Peoria. Field continued working at Ideal Troy until he became ill.

Active in the Peoria community, Field was a member of the Rotary Club of Peoria for 61 years. He was a longstanding member of the Country Club of Peoria where he enjoyed many years of golf and tennis. In addition, he served on the ICC Foundation. Field was an active lifelong member of First Federated Church where he served on the Executive Board. Throughout his life, he found pleasure in duck hunting, fishing, tennis and golf where he made valuable friendships.

The Triebel family is grateful to the staff at Lutheran Hillside Village, OSF Hospice and Tiffany, Yolanda, Angie and Paris for their care and devotion.

Cremation rites have been accorded. A memorial service will be held at 11a.m. on Wednesday, October 4, 2017 at First Federated Church in Peoria. The Rev. Dr. Forrest Krummel will officiate.
A visitation will be held at the church one hour prior to the service.

In lieu of flowers, memorial donations may be made to First Federated Church Endowment Fund, Lutheran Hillside Village Foundation, or the Field and Jeannine Triebel Unrestricted Charitable Fund of the Community Foundation of Central Illinois.
Previous Events
Visitation
First Federated Church of Peoria
3601 N. Sheridan Road
Peoria, IL 61604
Visitation for Field and Jeannine Triebel
Celebration of Life
First Federated Church of Peoria
3601 N. Sheridan Road
Peoria, IL 61604
Celebration of Life for Field and Jeannine Triebel