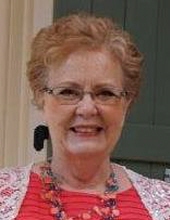 Obituary for Patricia E. "Pat" Vietti
PEORIA--Patricia E. "Pat" Vietti, 70, of Peoria, IL, died peacefully surrounded by her family on November 27, 2017 at 8:02 pm at the OSF Richard L. Owens Hospice Home.

Pat was born on September 20, 1947 in Rock Island, IL, the daughter of Hilda (Nelson) and Maurice Sutterman. Patricia married Gerald "Jerry" Vietti on May 31, 1969 in Davenport, IA.

Surviving are her husband of 48 years, Jerry Vietti and her sons, Jason (Lori) Vietti of Chillicothe, IL; Todd (Erin) Vietti of Mossville, IL; and Eric (Kim) Vietti of Peoria, IL; as well as her six grandchildren, Jacob and Teegan (Jason); Emma and Izzy (Todd); and Michael and Megan (Eric). Pat is also survived by her sister (Marian Harksen of Little Rock, AR).

She was preceded in death by her parents, her brother Larry Sutterman, and her beloved pet, Ginger.

Pat earned her Bachelor's of Elementary Education from University of Northern Iowa in 1969. She then earned her Master's degree from Western University in Macomb, IL. She spent most of her career as a grade school teacher at Madison Elementary in Davenport, lA, George A. Barr School in Silvis, IL and St. Paul Elementary in Macomb, IL.

After moving to the Peoria area in 1991, Pat was employed by the Private Industry Council in Pekin, IL before moving to the Opportunities program that financially supported low-income students attending College for several years. She then moved to the University of Illinois College of Medicine at Peoria and helped facilitate research conducted by medical residents at the hospitals. She retired in 2009.

Pat loved spending time with her family and making new friends. There was never a public outing or shopping trip that Pat did not find someone with which to have a conversation. She has been a long-time member of the Peoria Area Miniature Society and created many beautiful miniature dioramas and houses. Her creativity in most recent years focused on her newfound love of quilting and creating doll clothing. Pat also was the best grandma to help with any school project that required crafts. Her backyard also boasts of another of her passions - gardening.

Pat will be forever remembered as a kind and loving wife, mother, and grandmother.

A memorial visitation will be from 5 to 7 p.m. Monday, December 4, 2017 at The Wilton Mortuary.

In lieu of flowers, memorials may be made to Illinois CancerCare, P.C., 8940 N. Wood Sage Rd., Peoria, IL 61615-7822 or OSF Richard L. Owens Hospice Home, 8630 Illinois State Route 91, Peoria, IL 61615.
Previous Events
Visitation
The Wilton Mortuary
2101 N. Knoxville Ave.
Peoria, IL 61603