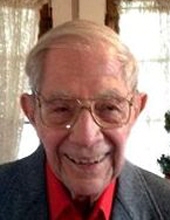 Obituary for John F. Yeck, Jr.
John Francis Yeck, Jr. died peacefully at home at Proctor Place on April 14 in Peoria, IL at the age of 92.

John was born in Peoria on June 19, 1925 to John F. Yeck and Josephine Greishaber. He married Dorothy "Dee" Alford on December 25, 1948 in Peoria and she preceded him in death on December 6, 1991. He later married Mildred L. Bauman on September 26, 1992 in Peoria and she preceded him in death on June 19, 2011. He was also preceded in death by his parents and two infant sisters.

John is survived by his four children, Roland Nelson of McAllen, Texas, John F Yeck, III of New York, NY., Mary Helen Yeck of Marion, IL and Susan Yeck and husband Greg Petty of Mattoon, IL and special friend Ann Evans of Peoria. Additionally, John has eight grandchildren and four great grandchildren.

John graduated from Peoria High School and then served in WWII in both the Merchant Marines and the Army. Upon discharge, he returned to Peoria where he worked at Caterpillar and attended Midstate Business College. During this time, he married Dee. John was an entrepreneur, with several businesses including an insurance agency. He later worked as a switchman for the Rock Island Railroad. Following his retirement from the railroad, he spent his time on rental property and other investments.

John had many hobbies and interests. He was involved with Peoria Players and Cornstock Theaters. Usually he could be found behind the scene, but did step on the stage for several roles. He became interested in bike riding and enjoyed the challenge of long distance rides. John and his wife enjoyed traveling in the United States and could often be found camping in national and state parks. John was a dedicated caregiver to his wife Dee during her lengthy illness. Following her death, he became involved in square dancing and met Millie, who became his second wife. They enjoyed travel, particularly cruises and studied investments becoming involved with several investment groups. He served as President of the Heart of Il Chapter of National Association of Investment Clubs, and taught classes to encourage others to learn more about financial investing.

John was a life member of the Masonic Temple Lodge No. 46, as well as a member of the Peoria Consistory Mohammed Shrine, the American Legion, Arcadia Avenue Presbyterian Church, and Glen Oak Christian Church.

A memorial service will held on Saturday, May 5, 2018 at 3pm at Proctor Place with a reception to follow. Visitation will be held one hour prior to the service. Rev. Randy Williams will officiate the ceremony. All are welcome to attend and celebrate John's life. Time will be available after the service to share a memory or story. In lieu of flowers, please send donations to Illinois Association of School Social Workers c/o Dee Yeck Memorial Fund, P.O. Box 634, Algonquin, IL 60102. The family would like to thank the dedicated and compassionate staff at Proctor Place for their care of John over the past several years. Arrangements were handled through The Wilton Mortuary.
Previous Events
Visitation
Proctor Place
2724 W. Reservoir Blvd.
Peoria, Illinois 61615
Service
Proctor Place
2724 W. Reservoir Blvd.
Peoria, Illinois 61615
Memorial Contribution
Illinois Assoc. of School Social Workers c/o Dee Yeck Memorial Fund
P.O. Box 634
Algonquin, Illinois 60102