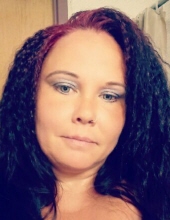 Obituary for Jessica E. Lemay
Although it pains me to admit it, but apparently, I have passed away. Everyone told me it would happen one day but that's simply not something I wanted to hear much less experience. Once again I didn't get things my way! That's been the story of my life all my life. And while on the subject
(the story of my life). . .

On May 21, 1972 my parents and older siblings celebrated my birth and I was introduced to all as Jessica Ella Munson the daughter of the late John and Shirley Munson of Peoria. I can't believe this either but there are records on file at the courthouse that can corroborate this claim. I was world renowned for my lack of patience, never holding back my opinion and telling it how it was. I had a very extensive vocabulary and was more than highly proficient at knowing more curse words than most people learned in a lifetime.

I leave behind a very dysfunctional family that I have always been very proud of. Four siblings Claude and Kathleen (Taul) Collins of Galesburg, Randy and J. Vicki (Taul) Hines of Michigan, Candy (Taul) Martin of Peoria and Jimmy Munson of Springfield. Five children (my loves) Christopher Kelson, Shaquoya Williams, Jordon Lemay, Americus Lemay and Journey Lemay. Also a hell of a lot of nieces and nephews and great nieces and nephews. I have also lost loved ones along the way (that just had to beat me to the finish line) my sister, Wanda Taul, my sister, Tammy Taul, my brother, Johnny Munson, and my parents John and Shirley Munson.

In closing I would like all my loved ones to know I'm ok and that you may help yourself to all my things but please wait for an appropriate time (tomorrow will be fine). Until we meet again. . . Later

Sunrise May 21, 1972 - Sunset August 25, 2017.