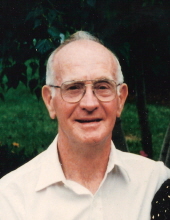 Obituary for James H. Crain
James Hugh Crain, age 89, of Peoria, passed away on Saturday, March 10, 2018 at Rosewood Care Center in Peoria.

Jim was born on April 16, 1928 in Hiltons, Virginia to Hugh A. and Ida Kate (Schafer) Crain. He married Sue Ella Cole on December 19, 1948 in Gate City, Virginia.

Surviving are his wife, Sue; two sons, James (Alissa) Crain of Wildwood, MO and John (Terry) Crain of Dunlap, IL; one daughter, Mary (Peggy) Crain of Peoria, IL; five grandchildren, Larkin, Jason, Johnny, and Courtney Crain and Beau Brugger; and one great-granddaughter, Katelyn. He was preceded in death by his parents; two half-sisters and one half-brother.

Jim served in the U.S. Army during the Korean Conflict. He then worked for Caterpillar for 34 years, retiring in 1982 and for Sears for 20 years.

Our Dad was one of the Great ones, a member of The Greatest Generation.
Raised in the Virginia hills by a hard-nosed father, and a mother rarely there for him;
he had to quit school, to help on the farm. Instead, he stepped beyond that, going on to educate himself, moving to find employment at Caterpillar Inc., and to serve his country, in Korea during the war years of 52-53. He went on to serve his community of Peoria as a Civil Defense volunteer, as a Scout leader, and as a member of many years and servant leader to all at Bethany Baptist Church. During these same years he also worked two jobs to build a more comfortable life for his family, and to assist with his children's college, rarely spending on himself. He was protective and supportive of his family throughout successes, and mistakes. He was the example to us of caring for your family, of responsibility, and of hard work, not for yourself, but to better those around you. He was always faithful to his family, and the model of temperance, in all things, indulging and overindulging in nothing. In their declining years, he was still there, caring for our mother, through her long illness, as long as he could. Always humble, never complaining, always faithful. That was our Dad, love expressed.

Services will be held on Thursday, March 15, 2018 at 11am at The Wilton Mortuary in Peoria. Visitation will be held on Wednesday, March 14, 2018 from 5pm to 7pm at the funeral home. Rev. Lyall Sutton will be officiating. Burial will be at Swan Lake Memory Gardens in Peoria. Memorials may be made to Bethany Baptist Church or the Alzheimer's Association.
Previous Events
Visitation
The Wilton Mortuary
2101 N. Knoxville Ave.
Peoria, IL 61603
Service
The Wilton Mortuary
2101 N. Knoxville Ave.
Peoria, IL 61603
Cemetery Details
Location
Swan Lake Memory Gardens
4601 W. War Memorial Drive
Peoria, IL 61615
Memorial Contribution